Four Roll Crusher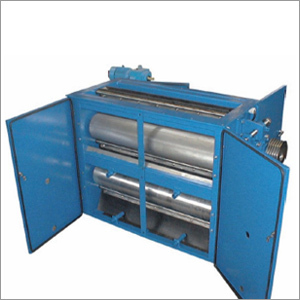 Four Roll Crusher
Four Roll Crusher
With the support of our highly experienced and skilled workforce, we are renowned as one of the well equipped manufacturers, suppliers and exporters of Four Roll Crusher. We have with us sound shaping machine, crane and drilling mic machine, which enable us to manufacture wide range of crusher machine for our clients. Four Roll Crusher, which we are offering in the market, finds wide applications in various industries such as chemical industry, fertilizer industry and power plant technology
Further Details:

Fields of Application

Four Roll Crushers are used for primary and secondary crushing. They are particularly suitable for medium and fine grinding processes, demanding a narrow particle size distribution and a low dust content.

Feed Materials

Raw material and products, for example in the

Fertilizer industry

Power plant technology

Chemical industry
Mode Of Operation

The crushing rolls are individually or driven in pair by electrical motors, counter-rotating via V-belts.

The material is fed into the primary crushing stage by conveyors while it is spread over the whole width of the roll. The favourable angle of entry, determined by the optimum arrangement of the primary crusher rolls and corresponding grooves guarantees efficient into the primary crushing stage, even in case of large feed lumps.

The optimum material guiding and the careful adjusting of the roller diameter towards the roller speed of the secondary crushing stage guarantee a gentle crushing process with a minimum of wear and tear.
Special Features

Gap width of the primary crushing stage may be adjusted independently of the secondary crushing stage and ensures an easy and optimum coordination between the crushing stages.

Depending on the application, the primary crusher roll are equipped with either grooves or teeth.

In case feed materials are used with a tendency to clog, the crushing chamber and the material guides are lined with rubber.

The Four Roll Crusher integrates an overload protection in both crushing states, which allows foreign particles to pass without causing damage to the machine.

In order to facilitate maintenance, the roller shafts are arranged in amply-dimensioned spherical roller bearings. The bearings housing are equipped with lubricated labyrinths to avoid dust and dirt penetration.
Versatility

The uniform final grain size is affected by the gap between the rolls/comb plate in the individual crushing stages.

In order to alter the gap and to compensate wear and tear, the primary and secondary crushing stages are equipped with an adjusting devices.

Gap width adjustment of the secondary crushing stage is effected mechanically or hydraulically.
Advantages

High and constant capacity

Space-saving simultaneous integration of two crushing stages

High availability

Gap adjustment independent of primary and secondary crushing stage

Easy replacement of wear and spare parts

Wide range of application

Gentle crushing

Overload protection
Scope Of Application

Feed Size: Up to approx. 20mm

Product size: Up to approx. <1mm depending on the feed material and its size

Capacity: Up to approx. 15 t/h

Max. required power: Approx. 45kW
Accessories

Automatic gap adjusting device for the individual crushing stages

Automatic grease lubrication system
Contact Details
AMBICA CRUSHTECH PRIVATE LIMITED
987/2, G.I.D.C. Industrial Estate, Makarpura, Vadodara - 390010, Gujarat, India
Mr. Urmit Hirubhai Patel (Director)